BROWN SPRING WEEKEND: AMINÉ


---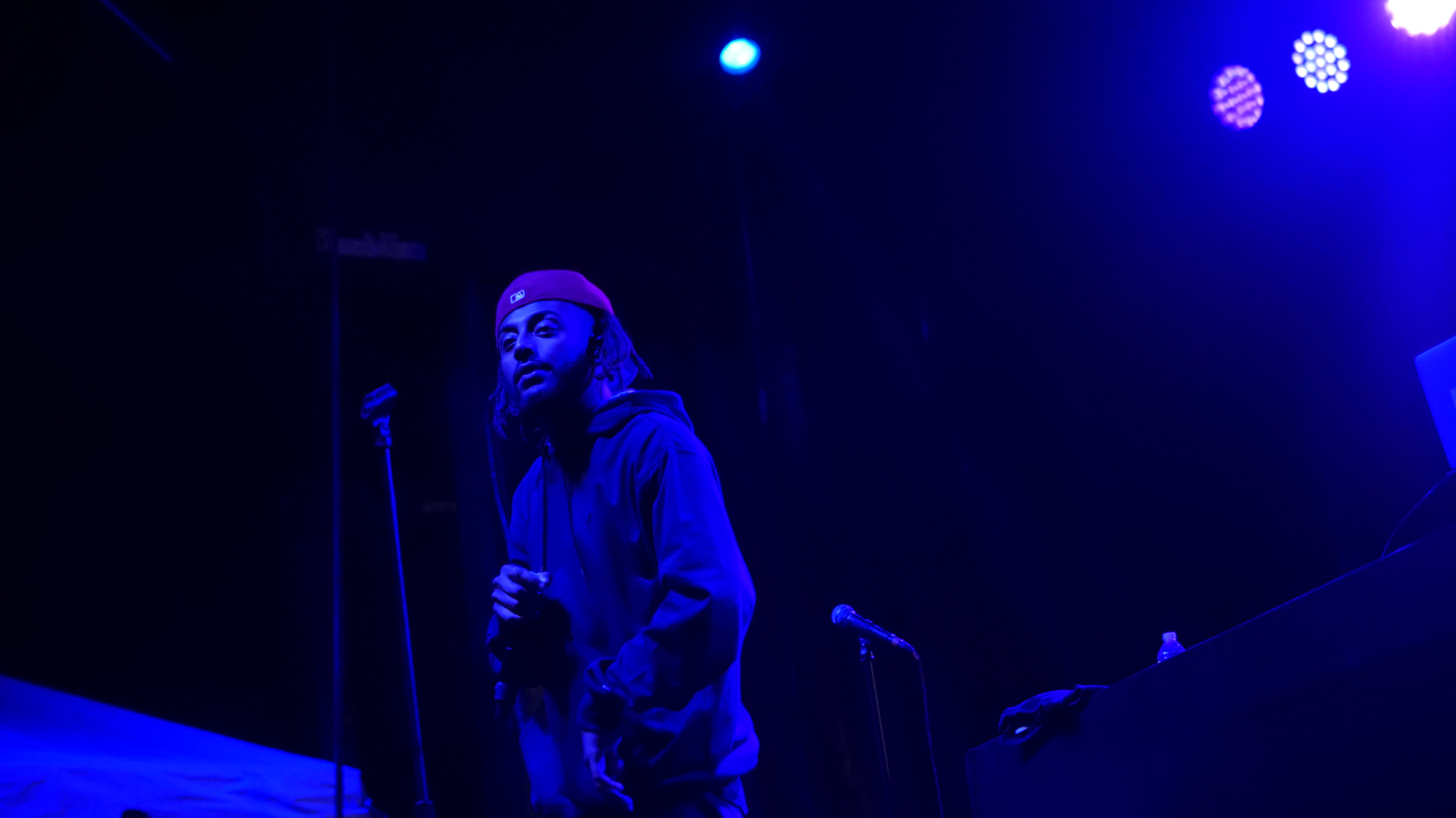 April 10, 2019

WRITTEN BY
JD Cavelli

EDITED BY
Max Luebbers

PHOTOGRAPHY BY
Joey Han



The first return on a Google search for "amine" is a Wikipedia page describing amine groups in chemistry. Apparently, an amine is a derivative of ammonia, and perhaps the most well known amine is the amino acid, the so called building block of proteins.


In a more direct attempt to find Aminé's music, one might naturally follow up that search with "best amine." Ever helpful Google would 'auto correct' their search and display results for "best anime." Now, not amino acids, but pages of works of Japanese animation are displayed instead of Aminé's music.


Finally, when searching for "amine rapper," Google proudly displays the playful goofball himself: tall and lanky, with large, expressive eyes, sporting a toothy smile, and never without his characteristic freeform dreadlocks.


It's no surprise that people also tend to confuse the pronunciation of 'Aminé' with 'amino' or 'anime.'But, once a listener finally gets the chance to engage with his music, Aminé's (actually pronounced ah-MEE-nay) artistic intrepidity is impossible to confound.


Adam Aminé Daniel was born to immigrant parents in Portland, Oregon. Both from Ethiopia, his mother worked for a post office, and his father as a teacher and translator. He grew up hearing Amharic, the traditional language of Ethiopia, and listening to everything from John Mayer to traditional Ethiopian music over the airwaves at home.


At school, however, his unique upbringing and perspective led him, unwillingly, to become the outsider amongst his peers. In a conversation with the New York Times, Aminé reflected on how, at his predominantly white middle school, he "got called the n-word" and often faced significant and blatant discrimination. But, once he joined the more integrated Benson Polytechnic High School, he started to find his community and his passion. He began his music career making 'diss tracks' on rival high schools. He did it "for fun," but started to take it "more seriously once [he] realized that [it] made him happy." His music started as playful, jocular, and fun, and those qualities continue to define his music to the present day.


While studying Marketing at Portland State University, Aminé left his home in "super depressing" Portland every summer to hit New York City. Why stay in Portland to experience "hidden racism" on the daily, when he could be one step closer to his dreams in the Big Apple? He took on whatever opportunity he could, and although he found himself in places like the offices of media outlet Complex and record label Def Jam, he still, after every summer, always ended up back in Portland.


Battling bouts of depression fueled by this uncertainty about his choices in pursuit of his passion, he met Josh Hickman back at Portland State University, who would become an crucial contributor and pseudo-manager to Aminé's early career. Together they released a mixtape entitled Genuine Thoughts, Aminé's first album entitled Odyssey to Me, and his first extended play entitled En Vogue. Unfortunately, since Aminé joined up with New York City manager Justin Lehmann, the works have been expunged from the internet, and as such have become incredibly challenging to find.


His first major project under Lehmann, his second album Calling Brio, hearkens back to his multiethnic upbringing and influence. "La Danse" prominently features dancehall inspired drum breaks. "YeYe" combines elements of future bounce with world samples. "Rage / Peace" offers more traditional dark trap elements like strong kicks and punchy 808s, before using a standout bridge in Patois to transition into a jazz-rap-esque outro. "Zzzz" might be the perfect encapsulation of the entire album: a shaker and tom heavy, percussive modern take on the classic "The Lion Sleeps Tonight" The work solidifies his style, which, subversively, seems to be marked by his versatility as an artist: his refusal to be tied down to any particular style, and his ability to draw from multiple influences.


His first commercial success, "Caroline," and the album from which it comes, Good For You, further demonstrate Aminé's ability to wear different sonic hats. "Caroline," has garnered almost 250 million views on Youtube and is certified quadruple platinum according to the RIAA. It features "wubby" chord synths underlied by a relatively traditional drum kit pattern, driven by Aminé's goofy, light lyrics that keep it firmly planted in one's mind after just a single listen. Its success, coupled with his impressive early discography, earned him a spot in the XXL Freshman class of 2017. On Good For You, Aminé honed in on a distinctive style: a whimsical kind of pastel pop rap, undergirded by a more serious subcurrent in his lyrics.


Aminé's courageousness extends beyond his music; he's no stranger to using his art for the political. In his very first television performance, on The Tonight Show Starring Jimmy Fallon, he performed "Caroline" initially with his usual level of jocularity, accompanied by an orchestral suite, backup singers and his signature bananas. However, when the time came to deliver his third verse, the entire mood of the stage shifted as Aminé delivered a substitute verse in intense opposition to the newly elected President Donald Trump.


He emphatically ended the verse with: "You can never make America great again / All you ever did was make this country hate again."


But, even prior to even releasing Good For You, Aminé was no stranger to taking up the political. His earlier single "REDMERCEDES" is, on the surface, about simply being the new owner a red Mercedes, Although this might seem like reductive modern rap braggadocio, the song's music video, in which Aminé is portrayed in whiteface, paints the entire song in a new light, namely as a poignant critique of modern performative blackness and racial stereotyping. Put simply, as he told The Los Angeles times regarding his art, "[He] can't just sit here and shuck and jive for people. [he has] to say something."


Ultimately though, and most impressively, Aminé eschews labels entirely so as to keep the emphasis on his music. Aminé is an incredible personality unafraid to be unabashedly himself. He excels in whatever musical style he chooses to approach, whether it's on the world-inspired Calling Brio, the populist rap of Good For You, or the more modern, standard, banger based ONEPOINTFIVE, his most recent full project. He is bold enough to make poignant political statements, while simultaneously being bold enough to keep the focus on his art as opposed to his views.


Regardless what he attempts, his work remains cohesive because Aminé himself lies at its core every time; the lanky, expressive eyed, dreadlock sporting, banana obsessed goofball whose only real pet peeve, it seems, is misrepresentation of his name.